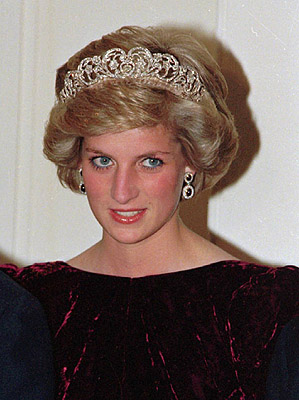 Princess Diana
What has happened to the memory of Princess Diana in just two years?
She has been forgotten by many just as the Royals wanted.
I feel it has to do with the fact that there is no permanent place to attach our memories of Diana.
No permanent Memorial has been made.
It is so similiar to the fact that our beloved John F. Kennedy Jr. has been forgotten in a very few weeks.
He also has no burial place and no memorial. It is a very unkind way to treat our modern day icons.
Build cathedrals for these wonderful persons!
Stand up and make your voices heard.
We want a place to visit, a garden to view and rest with our thoughts and remembrances.
We want a sculpture or a monument. We want to remember Diana through the generations!
--Elle
---
Monday, August 30, 1999 Published at 23:14 GMT 00:14 UK
UK
Flowers mark Diana anniversary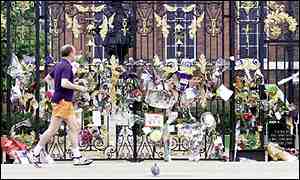 The tributes at the palace are growing

A steady stream of people have been arriving at Kensington Palace in London to mark the second anniversary of the death of Diana, Princess of Wales.
Many have laid flowers, toys and photographs at the gates of her former home.
It is understood that instead of clearing the tributes daily, park officials will leave them for another week.
The princess died with Dodi Fayed and his chauffeur when their car crashed in a road tunnel in Paris on 31 August 1997.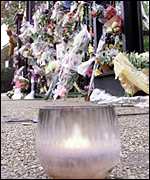 Visitors have also left candles, toys and photographs
It is thought her family will mark the anniversary with a low-key remembrance. Her sons, William and Harry, will be at Balmoral, the Queen's Scottish home.
The princess's brother, Earl Spencer, is expected to spend the day at the family home, Althorp in Northamptonshire, where Diana is buried.
The permanent tribute to Diana at Althorp closed on Monday. Since it opened on 1 July, 142,000 people have visited the exhibition, just 5,000 fewer than when it opened last year.
Call for memorial
Organisers said hundreds of people had left flowers by the lake where Diana is buried.
Many people at Kensington Palace called for a permanent memorial to be put up.
"There's been millions of pounds donated to her fund which has just not been spent and it's terrible," said Anne Shaws, from the Isle of Wight.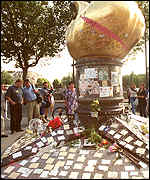 Tributes have also been left at the makeshift memorial near where she died in Paris
Joyce Vanherring from Berkshire agreed. "There are not so many people out here this year and it's going to get less and less," she said.
"In the future our children and their children won't know this is the anniversary of her death and we need a memorial to remind people."
People also criticised plans by James Hewitt, the princess's former lover, to publish a book.
Due out later this year or early in 2000, it is widely expected to contain details of his relationship with Diana.
However, Mr Hewitt's lawyer said the love letters written by the princess would not feature in the book.
'Delicate, yet powerful'
A rose commemorating the princess will be launched by the Royal National Rose Society on Tuesday.
The new flower, England's Rose, is a creamy pink colour with an apricot blush.
Its fragrence is described as delicate, yet deceptively powerful.
David Austin, who bred the rose, said: "This is a rose of the greatest delicacy and charm.
"I can think of no rose more suitable to bear Diana, Princess of Wales' name."
About 5000 plants will initially be released.
Some will be planted at a special dedication ceremony in the society's Gardens of the Rose, at St Albans. A limited number will be sold for £20 each.
---
Candle flickers 2 years after death, less ado over Diana
By Kevin Cullen, Globe Staff, 08/30/99

ONDON - Two years after Britain was swamped by a tidal wave of emotion over the death of Diana, the people's princess seems to have been forgotten by a good number of people.
There are no official commemorations scheduled tomorrow, the second anniversary of the death of the princess of Wales.
There is no memorial to her in place, and the committee in charge of putting one up seems paralyzed by indecision. Donations to the charity created in her memory have fallen off dramatically. Even the numbers visiting her gravesite at her family's estate at Althorp have been far below those predicted.
A recent appeal in The Sun, Britain's biggest circulation newspaper, seemed almost plaintive as it asked readers to send in their memories of the week Diana died.
Two years ago, when she was killed in a Paris car crash, people did not have to be asked to volunteer their emotions. They cried in the streets. More than 1 million bouquets were left at the gates of the royal family's palaces. Tens of thousands stood in line for hours to sign books of condolence.
Many say the country has simply moved on. Jonathan Freedland, a columnist for The Guardian, put it so bluntly that he had to first stipulate that he was not being facetious.
''The legend of Diana is fading because she is dead,'' he said. ''Alive, her fame rested on novelty, the public appetite for the next photograph, the new haircut, the latest boyfriend, tomorrow's twist in the drama. Drained of any chance of newness, the Diana narrative has dried up.''
In a bitter irony, even Diana's brother, Charles Spencer, who at her funeral blamed the insatiable appetite of the tabloid press for hounding his sister to an early grave, concluded that 25,000 tickets to the Diana museum at Althorp remained unsold when it opened last month because of the lack of publicity.
''Last year, the princess was in the newspapers all the time,'' he said. ''It hasn't been like that this year.''
But friends of Diana, especially those who work in the charities that she took to heart, insisted that the amount of attention being paid to her memory is scant only when compared to the exaggerated attention that followed her death and its first anniversary.
Joanna Scott, communications director for the Diana, Princess of Wales Memorial Fund, said public attitudes about the memory of Diana have become ''very respectful, very measured, as they should be.''
Scott said the fund is currently receiving about $50,000 a month in donations. If that figure held steady for the next 16 months, the fund would net about $800,000. In the first 16 months after Diana's death, the fund received $30 million.
''It is true to say the money is not coming in like it was. But we did not expect it to after a certain period of time, and we are not fund-raising,'' she said.
Still, the fund has raised more than $160 million, most of it on the sales of licensed products and memorabilia that will continue, and has distributed more than $33 million to some 150 charities in Britain and abroad.
Even Diana's staunchest admirers, however, acknowledge the country has moved on and is no longer obsessed by her or the circumstances of her death. Perhaps the best indicator of that is the willingness of Prince Charles, Diana's former husband, to make public his relationship with Camilla Parker-Bowles, the ''other woman'' whom Diana blamed for breaking up her marriage. Not only did Charles step out in public with Parker-Bowles for the first time earlier this year, last month he took his sons along with her on a Greek vacation.
Not long ago, that would have been widely regarded as an insult to Diana's memory. But most Britons shrugged it off, believing that the prince is entitled to the relationship. Initially maligned by many as a cad who drove his wife to depression, Prince Charles has become a more sympathetic figure, especially after the emergence of various accounts depicting Diana as having suffered from personality disorders. There is a more measured view of him and Diana.
In the aftermath of the crash, which killed not only Diana but her boyfriend, Dodi Fayed, and their French chauffeur, many Britons blamed the pursuing paparazzi for causing her death. But last week's recommendation by a French prosecutor to drop charges against the photographers who chased the doomed Mercedes sedan was greeted mostly with resignation.
There are the inevitable conspiracy theories that Diana was bumped off by British intelligence agents to prevent her marrying or having children by a Muslim, theories not dampened by Fayed's bitter father, the owner of Harrods, London's most famous department store. But last week's muted reaction to the French prosecutor's report suggests that most Britons accept that Diana died because her French chauffeur was drunk and drove too fast in his attempt to elude photographers.
Buckingham Palace, in an official statement, urged that the anniversary be ''spent quietly.'' Well it should, said critics of the royal family. Diana's glamour and common touch exposed the shortcomings of many other royals in those areas.
But there was a contingent within the palace that had predicted Diana's popularity would fade with time. The royals have ridden out the storm of protest that, in the days immediately following Diana's death, seemed capable of eroding support for the monarchy.
Rosa Andreou, a 25-year-old London hairdresser, is typical. She cried when she watched the nonstop television coverage of Diana's death, the return of the flag-draped coffin, and the dignity of Diana's sons, Princes William and Harry, as they greeted mourners outside Kensington Palace. She shook her fist and cheered Spencer when, in front of the royal family at Diana's funeral in Westminster Abbey, he blamed heartless members of the monarchy and media for destroying his sister.
But today Andreou doesn't know how to feel about Diana. She is sad that Diana died but, frankly, doesn't think about it that often.
''It used to be everywhere, you couldn't get away from the story, so you thought about it all the time,'' she said. ''Now you don't hear about her so much.''
The media most responsible for cultivating her image, tabloid newspapers and glossy magazines, do the occasional retrospective, but they focus on the living, not the dead.
One of the tabloids, The Mirror, called on the government to use public resources to memorialize Diana before it was too late.
''It is almost as if she had never existed,'' an editorial complained. ''If we are not very careful, there is a real danger that she will disappear.''
Derek Bodell, director of the National AIDS Trust and a close friend of Diana's, believes it is only natural that the hysteria and hype that followed her death have subsided.
''In a sense she is forgotten,'' said Bodell. ''But anyone who was touched by the princess has not forgotten her, and never will.''
Diana is credited with helping to lessen the stigma associated with AIDS by touching and comforting people with AIDS. The National AIDS Trust memorialized her by creating an annual lecture series in her name. Two months ago, UN Secretary General Kofi Annan gave the lecture, saying, ''Faced with her example, we simply cannot leave the neediest on this earth to needless death and degradation. She gave too much and cared too deeply for us not to honor her memory with action.''
Bodell said there was little press coverage of the lecture. He ruefully acknowledges there probably would have been more had it been about her fashion sense. But Bodell believes that as the years go by, Diana will be remembered more for her sense of compassion.
''History will be kinder to her because it will recognize the good work she did on unpopular issues like AIDS, leprosy, land mines and homelessness,'' he said. ''Five years down the road, Diana's legacy will be clearer.''
So, too, he says, will the public memory of her.
---
Britain beginning to forget Diana
Two years after crash, plans for memorial are forgotten
By Charles Sabine NBC NEWS
LONDON, Aug. 30 — Two years after Princess Diana died in an automobile crash in Paris, England is beginning to let go of the obsession with her royal highness. NBC's Charles Sabine reports from London.
LESLEY POVEY is putting the finishing touches to her sculpture of Princess Diana. There's only one problem with Povey's work; no one seems to want it.
Two years since the death of the princess, there are no official memorials to her in Britain, and none planned.

HOW TO REMEMBER HER
Back then, the debate wasn't about whether she should be remembered, but how. Suggestions for a permanent memorial varied from statues to airports. But then something very unexpected happened in Britain.
"The graph of emotion surrounding Diana's death has plummeted, particularly in the last year. We are now at the stage where we can look at the whole thing much more dispassionately" said Anne McElvoy, of the London Independent newspaper.
At Althorpe, where the princess is buried, demand for entry tickets has dropped dramatically this summer.
And take the fate of her home at Kensington Palace Gardens. After her death, there were mountains of flowers and cards that became a symbol of worldwide grief.
In the wake of Diana's death, the politicians and captains of industry were falling over each other to become associated with plans to spend $16 million on a memorial garden to her in front of her home at Kensington Palace.
Local residents objected, the plans stalled and then were quietly forgotten. Now, almost no one seems to think there would be votes to be gained by lobbying for it. Only a trickle of enthusiasts bear witness to the fact that Diana ever lived here at all.

NO LONGER FASCINATES
"Diana's death in particularly dramatic circumstances no longer seems to fascinate people for as long," McElvoy said. "They consume the grief faster and faster the way we consume everything else faster and faster."
But there are those who disagree. Those who did make the pilgrimage to her grave on Sunday felt that
although a public memorial would be right, those who wanted to remember her will do so regardless.
Perhaps Britain is discovering that the reaction to death of Diana — and memories of her two years on — tell us more about ourselves than about her.

Charles Sabine is an NBC correspondent based in London.

---
DIANA REMEMBERED AT ROYAL SERVICE
Prayers were said for Diana, Princess of Wales, when members of the Royal Family attended morning service in a small church in Scotland almost two years to the day after her death.
At the same time, in another church 150 miles from Balmoral, the princess was remembered at a service attended by her mother in a Roman Catholic cathedral.
Mrs Frances Shand Kydd, who converted to Roman Catholicism two years ago, gave two Bible readings at the regular morning Mass at St Columba's Cathedral in Oban, Argyll.
Father Michael MacDonald asked the congregation to pray for Diana as he read out a list of recent bereavements in the parish. His words were followed by silent prayer as Mrs Shand Kydd, 69, stood with her head bowed.
As Mrs Shand Kydd was praying in Oban cathedral, the Queen, Duke of Edinburgh and other members of the Royal Family attended morning service at Crathie kirk, next to their Balmoral summer retreat.
The service began with a prayer by the Rt Rev John Cairns, Moderator of the General Assembly of the Church of Scotland, who asked people to remember Diana and all she achieved in her life.
"We come together this day conscious of the thought and prayers of so many people who remember with thanksgiving the life of Diana, Princess of Wales," he said.
"Her family, relatives and friends, and those whose lives were touched in real and deep and personal ways by her's, those who never met her yet felt themselves befriended by her."
After the service, the royals left through a side door for the short drive to Balmoral. The Queen, wearing a pink and blue flowery dress and pink hat with blue trim, looked relaxed as she smiled and waved at onlookers. Prince William and Prince Harry appeared to the most subdued of the group.
---
Sunday, August 29, 1999 Published at 23:53 GMT 00:53 UK
Elton calls for Diana memorial

Sir Elton John has called for a lasting memorial to the Princess of Wales, two days before the second anniversary of her death.
The 52-year-old pop star made the plea at his first UK concert since having a heart pacemaker fitted last month.
He told 10,000 fans at Harewood House, near Leeds: "I have got my health and I thank my lucky stars. At the end of each show I try to remember how lucky I am.
"It's this weekend two years ago a friend of mine, a friend of ours, was tragically killed."
Sir Elton then played the original Candle In The Wind, written as a tribute to Marilyn Monroe, which he rewrote in honour of Diana and sang at her funeral.
The Princess of Wales died on 31 August 1997, in a Paris car crash which also killed her boyfriend, Dodi Fayed, and their driver Henri Paul.
---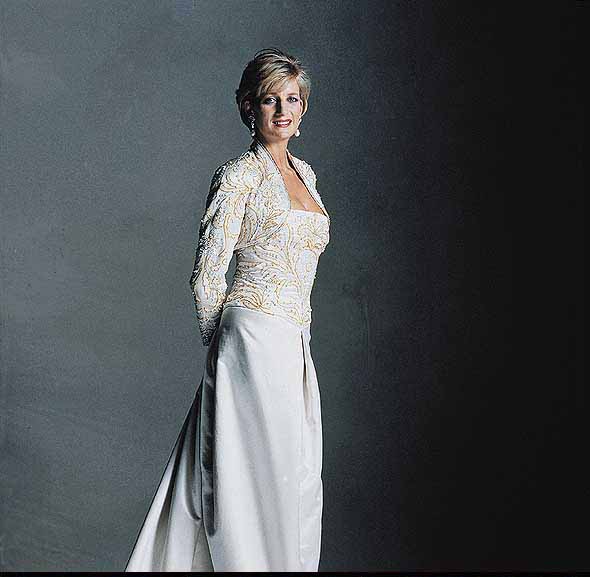 website designed by ElleWeb ................................
All comments Welcome--email: ElleWeb@writeme.com
Thank you for remembering DIANA.
© 1999, 2000 ElleWeb. All Rights Reserved. Created 8/30/99 Modified 11/24/99
Visit Gardens, a virual garden center, designed by ElleWeb.
---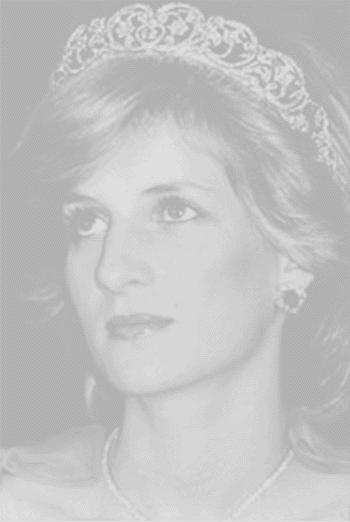 ---

Huge Selection and Savings @ Amazon this Holiday!