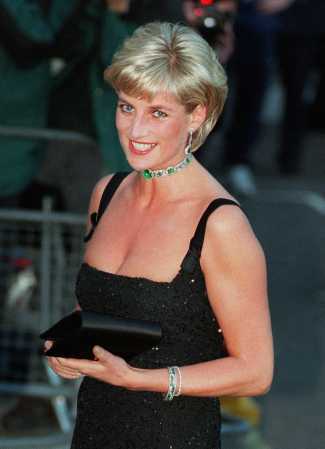 Princess Diana
Second Anniversary
August 31, 1999

---

ENGLAND'S ROSE REMEMBERED WITH A FLOWER
A rose commemorating Diana, Princess of Wales, is being launched by the Royal National Rose Society to mark the second anniversary of her death.
The new flower, England's Rose, is a creamy pink colour with an apricot blush. Its fragrance is described as delicate, yet deceptively powerful.
David Austin, its breeder, said it was the most beautiful he had ever bred.
"This is a rose of the greatest delicacy and charm," he said. "I can think of no rose more suitable to bear Diana, Princess of Wales' name."
Lieutenant Colonel Ken Grapes, director general of the RNRS, said: "This lovely rose will be an appropriate and living memorial in gardens throughout the UK and overseas, creating a fitting tribute to a much-loved figure."
Five thousand plants will initially be released. Some will be planted at a special dedication ceremony in the Society's Gardens of the Rose, at St Albans, Herts, next year, to raise money for the RNRS and a land mine charity, and a limited number will be sold for £20 each.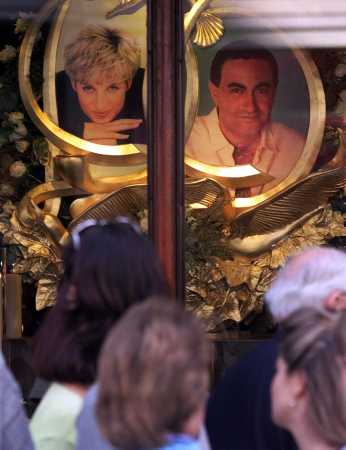 Paris, Tuesday, August 31, 1999
Focus Is Shifting to Her Elder Son, the Heir to the Dynastic Flame
---
By Suzy Menkes
International Herald Tribune
---
LONDON - Two years after her death, the only monument to Diana, Princess of Wales, is the one the people have adopted, the Flame of Liberty above the Paris tunnel where she died in an automobile accident on Aug. 31, 1997.

On the anniversary Tuesday, as on every other day of the year, flowers and tributes will be offered by visitors from around the world to the memory of the ''people's princess.''

Although the official French memorial site, a garden, has not yet opened, thousands of visitors have brought their memories and mementos to the coincidental ''candle in the wind'' at the Place de l'Alma in the 16th arrondissement of Paris. That torch, a replica of the flame of the Statue of Liberty, was given to the city as a monument to French-American friendship, in an initiative organized by the International Herald Tribune a decade before the accident.

Meanwhile the British, many apparently amazed and embarrassed by the spontaneous collective mourning that followed Diana's death, have not enshrined her in a statue or even - as her mother, Frances Shand Kydd, pleaded last week - named a children's hospital for her.

The general reaction is indifference, exemplified by the unsold tickets to Althorp House, Diana's final resting place, where her brother, Earl Spencer, after a feisty speech at the funeral, has turned his stately home into ''Dianaland.''

The Diana saga sounds like the sorry tale of one of the shooting stars of the 20th century tumbling from iconic celebrity to Earth. Yet the princess's legacy lives on - and not just in the causes she inspired, like her success at drawing public attention to land mines. Diana's own eternal flame is kept alive in her oldest son, Prince William, who has emerged as the focus of the royal family. The 17- year-old prince seems to have inherited from his mother just the characteristics that make a future king: golden good looks, a fine physique and an easy, informal grace. William is the monarchy's fresh start. Interest will turn to William and his choice of bride, which in time should bring new births, new hopes and secure the succession.

As a woman in a feminist era, Diana wanted to be more than a royal wife and mother. Had she lived, she would surely have continued to do the good work that made her appreciated in her own right as ''Queen of People's Hearts,'' even when divorce had put her outside the royal family.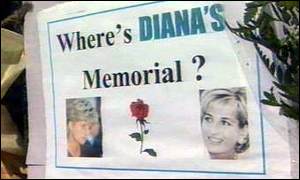 LONDON, Aug 31 (AFP) - Grief at the death of Princess Diana has two years on turned to anger as mourners Tuesday attacked the "establishment" for the lack of an official memorial for the woman seen as "the People's Princess."
The royal family remained away from the public gaze in their Scottish estate, Balmoral, having marked the second anniversary with private prayers during a church service on Sunday.
It was Mohammed Al Fayed, father of Diana's companion Dodi, also killed in the accident, who provided the most public display of mourning for the couple's death in the window of his luxury central London department store, Harrods.
But for the hundred or so people gathered outside Harrods and outside Princess Diana's former residence, Kensington Palace, this is not enough.
"Where is the memorial?" was the question many had written on cards, as they expressed their disappointment that there was no official ceremony or monument to remember the princess. "She's forgotten by the establishment but remembered by the people," said septuagenarian Bryan Lewis, who travelled especially from South Wales. His sister said: "We'll keep on coming here until they build a memorial. We want a monument at least 40 feet tall."
The fans differed in their views about the type of monument however, with some suggesting a statue in Trafalgar Square, while others wanted something less flashy and placed away from the crowds.
"We don't want anything to expensive or lavish, just a small fountain to remember her by," said Gill Marseilles, 57, and Ruth Heath, 68, who started collecting signatures outside Kensington Palace on Sunday. They have collected 2,000 signatures so far.
"It's sad that there isn't a permanent place for Diana's memory," said Sylvia Daniel and Jenny Pengely, both 57, who came from Cornwall specifically to commemorate the late princess.
Two years ago news of the sudden death of the princess in a Paris car crash drew masses of grief-stricken people to the gates of Kensington Palace. Now, only a steady trickle of die-hard Diana fans have travelled from all over Britain and the world, to lay flowers and cards outside Harrods and the palace.
The lack of official commemoration of Diana's death also seemed to fuel opinions that her death was a plot, as Al Fayed has consistently argued. One fan wrote "Murder" on the bow used to tie a bouquet, placed in front of Kensington Palace.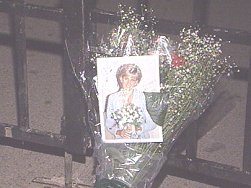 Remembering Diana - two years after her death
Thousands of mourners are expected to mark the second anniversary of the death of Diana, Princess of Wales.

Her two sons - William and Harry - prepared for a low-key remembrance at Balmoral, but crowds gathered in London to share their feelings of loss.

Mourners are expected to lay flowers at the gates of Kensington Palace in the absence of any official commemoration ceremonies.

Princes William and Harry were due to spend the day with the Prince of Wales in the privacy of the Royal Family's Scottish estate - where they first heard o f the fatal crash in Paris in the early hours of August 31 1997. The Princes were joined last year by the rest of the Royal Family and the Prime Minister and his wife, for a special prayer service at Crathie Church near Balmoral, but will spend today away from the public gaze.

The anniversary will not be marked publicly at the Althorp estate, where the Princess is buried, after the Spencer family residence closed its doors to visitors at the weekend at the end of its summer season. Diana's brother, Earl Spencer, is expected to spend today in "private contemplation" at the Northamptonshire estate. The family flag above the house, where Diana spent her teenage years, will be lowered to half mast.

At Buckingham Palace a flag will not be flown at half mast, as it was last year, and the state rooms will be open to the public as usual.

Several people staged an overnight vigil outside Kensington Palace.

John Loughrey, 44, from Wandsworth, south west London, arrived at midnight so that he could there at the exact time that she died. "I was here last year and I was here for four days without sleep when she died," he said. "Diana will always be remembered for her love and caring spirit. She stood for everything good about the country. I will keep coming back every year." Mr Loughrey said the Queen should put up a memorial for Diana this year. "Tony Blair should put pressure on Her Majesty to do this - it's what all her subjects want."

Another mourner, Kevin Greenan, attached a poem entitled Our Angel to the gates of the palace. It described how Diana "comforted the sick, touched those with Aids and cared for the homeless. " And it insisted that "the spirit lives on".
Joyce Vanherring, 42, from Bracknell, Berkshire, who was visiting the palace with her daughter Emma, 13, said she believed the Royal Family wanted to forget the Princess. She said: "I do not think the Royal Family want a memorial. It's terrible, when people have contributed so much money to her fund, that nothing has been created yet. I am furious about it."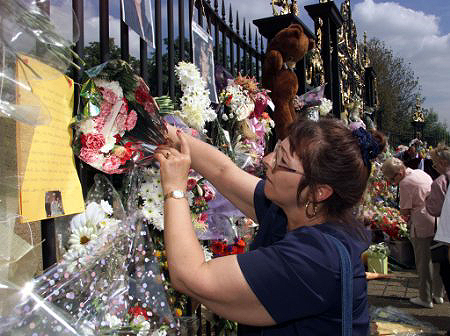 Diana remembered with flowers
WebPosted Tue Aug 31 19:42:33 1999
LONDON - Two years after Diana's fatal car crash, Londoners remember the Princess of Wales with flowers and photographs left outside the gates in front of her home, Kensington Palace.
The people's princess is also being remembered with a new rose bred and named especially for her.
England's Royal National Rose Society has launched the new breed called England's Rose. It's a creamy pink flower with a delicate, yet deceptively powerful fragrance.
However, many people are wondering why no one has built a permanent memorial for Diana.
The Mirror newspaper has started a petition to build a monument to the princess. So far the newspaper has received more than 140,000 calls of support.
Plans for a memorial garden near Kensingtons Place were quietly dropped after local residents objected. Instead the Diana memorial fund will invest in refurbishing a nearby children's playground.
Diana's family plan to remember the princess privately. Her sons Prince William, 17, and Prince Harry, 14, are spending the day at Balmoral, the royal estate in Scotland.
---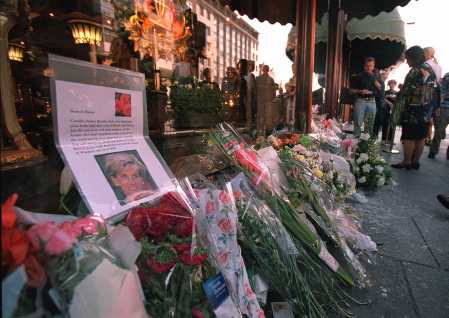 website designed by ElleWeb ................................
All comments Welcome--email: ElleWeb@writeme.com
Thank you for remembering DIANA.
© 1999, 2000 ElleWeb. All Rights Reserved. Created 9/01/99 Modified 11/23/99
Visit Gardens, a virual garden center, designed by ElleWeb.
---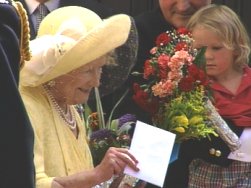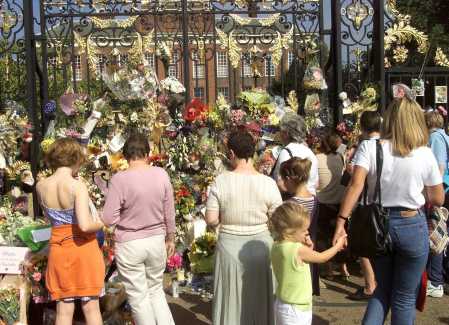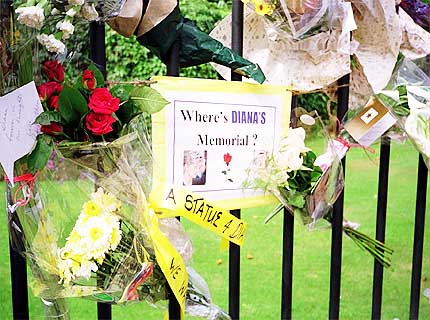 ---

Huge Selection and Savings @ Amazon this Holiday!