Princess Diana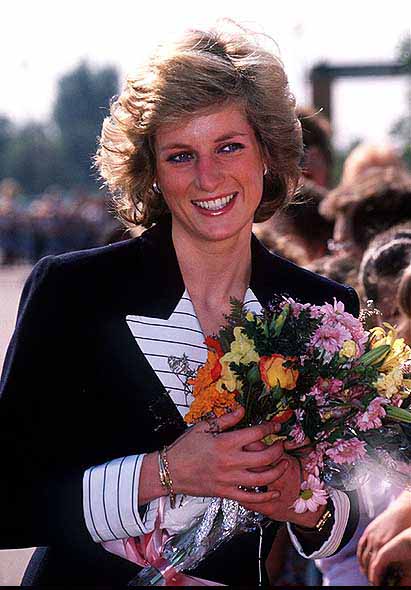 Third
Anniversary
August 31, 2000
---
Low-key remembrance on
third anniversary of Diana's death
The third anniversary of the death of Diana, Princess of Wales, is expected to be marked this week by low-key remembrance.
The Prince of Wales and Princes William and Harry were joining the Queen and other members of the Royal Family at the traditional Sunday church service today.
Prayers were due to be said at Crathie Church, near the Balmoral Estate, although the princess will not be mentioned by name - as is traditional in the Church of Scotland.
The Prince of Wales and Prince Harry will be at Balmoral for the anniversary itself on Thursday, while Prince William will have left for the next stage of his gap year.
Balmoral is the centre of the Royal Family's summer holidays and it was there that they first heard of the crash and the princess's death early in the morning of August 31, 1997.
The princess's brother Earl Spencer will spend a quiet family day at the family home Althorp, where she is buried on an island.
The Northamptonshire estate, which has been open to the public during the summer, will close on Wednesday until next year.
At Buckingham Palace, the state rooms will be open to the public as usual during the summer opening.
People are expected to mark the anniversary by laying flowers at the gates of Kensington Palace in London, where the princess lived. In Paris, flowers are expected to be laid at the unofficial shrine above the Pont d'Alma tunnel, scene of the tragic crash which also killed her friend Dodi Fayed and chauffeur Henri Paul.
The princess will also be remembered in prayers at Westminster Abbey, the scene of her funeral.
---
~More on the Third Anniversary~
page one
CNN report: Some still come to remember Diana,
Prince William's Coat of Arms
contains a tribute to his late mother
Princess Diana - in the shape of a small
red escallop shell.
page two
Diana Anniversary Marked Quietly,
U.S. To Be Sued in Diana Case,
Fayed to sue CIA for documents on Princess Diana,
Was Diana's Death an Establishment Plot,
Rose plaques mark out Diana walk,
new photographs.
page three
Diana, Princess of Wales Memorial Playground
in Kensington Gardens, London,
Peter Pan inspires Diana memorial,
Royal Family Snubs Diana Memorial,
new photographs.
Monday August 28 12:43 AM ET
Diana's Sons Deal With Anniversary

By AUDREY WOODS, Associated Press Writer

LONDON (AP) - Princess Diana's survivors have moved on. Three years after her death, Prince Charles has brought Camilla Parker Bowles out of the shadows, and Diana's sons are on the brink of adulthood. They all remember her in private.

But many of the millions of people who had never met Diana, yet grieved her loss, still pay their respects in public ways.

They visit Kensington Palace and pose for snapshots at the ornate gates where a mourning nation heaped flowers after the princess died in a car wreck Aug. 31, 1997, in Paris.

They still arrive by the busload at Althorp House, the Spencer family estate where Diana's brother, Earl Spencer, assembled an exhibition in her memory.

In its third year, the exhibition has had little press attention, ``yet the visitors are still coming,'' said Althorp spokeswoman Shelley-Anne Claircourt. ``It's really remarkable that the numbers are still so high.''

The opening day gathering this year, as in previous years, included some of Diana's most devoted admirers.

Dale Kramer, 47, from Ohio, told The Sunday Express that he had saved his earnings as a restaurant table cleaner so he could be at Althorp on what would have been Diana's 39th birthday, July 1.

``She was my inspiration,'' Kramer said. ``I look at her picture when I drive and I look at her picture when I eat.''

Kramer said he had been at Kensington Gardens in London the day before for the inauguration of a new playground built in Diana's memory. The event received news coverage, but mostly because the royal family did not turn up.

Buckingham Palace said family members had previous public engagements. Prince William, 18, and Prince Harry, 16, had declined their invitation - ``a very private and personal decision they made for themselves,'' the palace said.

Prince Charles and his sons have made clear they do not want to perpetuate public grieving.

Two days after the first anniversary, William and Harry appealed to the public to let their mother and her memory rest in peace. ``Constant reminders of her death can create nothing but pain to those she left behind,'' they said.

Nor does the family want to condone a ``Diana industry,'' making money off her memory.

The river of books, videos and magazine stories may have abated, but there is still no shortage of reading material for the fans.

The latest book - ``Diana, Her Last Love'' by Elizabeth Snell - and an accompanying TV documentary contended that Diana was in love with a Pakistani heart surgeon when she died and that her yacht trip with Dodi Fayed was a fling to make the doctor jealous.

A couple of tabloids picked up on the story, but it caused no sensation.

Britain's tabloids have faced up to the need for new faces to sell newspapers, with entertainers Victoria ``Posh Spice'' Beckham, Elizabeth Hurley and Catherine Zeta Jones decorating the front pages in steady rotation. But it just isn't the same.

Publicist Max Clifford, the most successful negotiator of kiss-and-tell sales to the tabloids, said editors are ``desperately'' looking for a celebrity to match Diana.

``No one has taken her place. She's the biggest star that we've produced in this country in a very long time - probably since the Beatles. There is no one that's even remotely close,'' Clifford said.

A reliable best seller, of course, is Prince William, with his Diana-blue eyes and shy smile.

``Most people regard William as the next major star,'' Clifford said. ``There is huge worldwide interest in him - apart from anything else, he looks so much like his mum.''

Now a graduate of Eton, William has left behind some of the stricter protection of Britain's voluntary press code on coverage. Although not exactly fair game for the telephoto lenses until he graduates from college, he is more vulnerable to press attention than he ever has been.

He managed to slip quietly away to the jungles of Belize soon after graduation to start a year off, traveling and working, before beginning his studies at the University of St. Andrews in Scotland.

The Sun - Britain's biggest-selling daily tabloid - has taken a public vow of conscience. Days before William's 18th birthday in June, the paper promised to ``play fair'' with the prince.

``We will cover real news. We will not intrude. We will not pry,'' the tabloid wrote.

Clifford said the newspapers are more cautious now than they ever have been, in part because they know the public is more critical of their actions since Princess Diana died, pursued by photographers to the last minutes of her life.

``It's all a question of what they can justify, what they can get away with,'' he said. ``They're straining at the leash, but they don't want to do anything that has the potential to alienate their readers.''


---

A princess forgotten by her people

Three years on from the death of Diana, her cult is dwindling and the donations are beginning to dry up

27 August 2000

Three years ago the cult of Diana held the nation in its grip. In the days following the death of the princess, an ocean of flowers welled up around Kensington Palace gardens, millions lined the route of her funeral procession, and millions more found themselves caught up in the convulsive tide of mourning that swept the country.

It was a mass show of emotion on a scale never before seen in Britain. Yet this Thursday, the third anniversary of Princess Diana's death with her lover in a Paris underpass, will be officially marked with... nothing. Today, the cult of Diana has few followers outside the more fanatical remnants of what was, for a while, a mass movement.

There are no memorial services planned, and no memorial concerts. A special road race from Kensington Palace to St Paul's Cathedral, where the 20-year-old Diana married Charles, has been cancelled due to "sponsorship difficulties". There is no large event where the remaining faithful can gather together.

Althorp, Diana's family estate where she is buried in an island grave, says that visitor numbers are down. And while £20m poured into the coffers of the Diana Princess of Wales Memorial Fund in those early, emotional days, public donations last year declined to less than half a million pounds.

Who now keeps her flame aglow? Not her husband, not yet her sons, and not her former lovers. Instead, the task of marking the anniversary has been left to Mohammed Al Fayed, father of her final lover. Dodi's father is promising to release yet further "information" on the crash at a Washington DC press conference scheduled for Wednesday.

Ingrid Seward, editor-in-chief of Majesty, the premier magazine for Royal watchers, and author of the recently published The Queen and Di, is convinced the Diana bubble has finally burst.

"There is still a big group of people that adores her," said Ms Seward. "But the majority of the population have actually taken her off the pedestal and now see her as a woman in the wrong place at the wrong time.

"Her memory is very much alive but I think people have a very different image of her now. I don't think people are anti her, they just see her as a person with all her faults rather than a goddess. I don't think people any longer feel the compulsion to mourn her. Only the fanatics will do that."

Ms Seward believes Diana's case has not been helped by the extraordinary allegations made by Mr Al Fayed who has accused the Duke of Edinburgh of arranging the car crash. That, said Ms Seward, has increased public sympathy for the Royal family, a factor noticeably absent in the aftermath of the crash.

Andrew Samuels, professor of analytical psychology at Essex University says that the lack of public mourning reflects normal patterns of the grieving process. But he said today's public indifference is an over-reaction to the extreme emotions shown three years ago: "I think the people are now just so embarrassed when they look back at the degree of emotional involvement that they showed at the time, suddenly we have become very British again – only more so."

The Princess Diana Memorial Fund charity argues that the drop in donations is meaningless as it never wanted public contributions anyway. Instead, it intended to raise funds through licensing of Diana memorial products such as the "Queen of Hearts" collection of plates.

But a survey by Mintel, the market analysts, into public perceptions of charitable causes shows a marked decline in the actual popularity of the memorial fund. In the aftermath of Diana's death, more than one in four people described it as one of the most appealing causes, rating it above environmental fund-raising or international aid.

Three years on, that figure has dropped to 11 per cent of the 2,000 people polled. Significantly, it now trails behind the Prince's Trust, the charity set up by Prince Charles in 1984 to help young people with 13 per cent describing it as one of the "most worthwhile or appealing" causes.

"The [memorial] fund is much less high profile than it had been in autumn 1997," concluded the report. Its author, James McCoy, says that is due in the main to the inevitable passing of time and Diana slipping out of the public consciousness.

But he also believes that adverse publicity over a legal battle – including £1.7 million spent on lawyers' fees – to protect the Diana copyright from an American firm that produced merchandise has clearly not helped the fund.

A spokeswoman for the Diana Princess of Wales Memorial Fund defended the money spent fighting the legal battle with Franklin Mint to protect the Diana copyright because licensing deals, such as one signed last month with Franklin Mint's rival Bradford Exchange, are set to bring in as much as £40 million.

A total of £28m has already been distributed by the fund to charitable causes, she said, while another £7m is earmarked for later in the year.
---
Diana, Princess of Wales has been remembered for her kindness at the opening of a memorial garden - but no members of the Royal Family were present to hear the tributes.

Her brother Earl Spencer and his four children witnessed the official opening of the Diana Memorial Playground and Memorial Walk.

He declined to comment on the absence of Royals at the opening ceremony in London's Kensington Gardens.

Former Lord Chamberlain, Lord Camoys, who represented the Queen on the Diana Memorial Committee, was present and praised Diana as "an inspirational person".

Diana's close friend Rosa Monckton said: "It's sad that no member of the Royal Family is here. But I don't want anything to detract from today because this is such a perfect memorial to Diana.

"So much has been speculated, often scandalously, about her life, we are in danger of forgetting she was passionate about children - about their happiness and welfare which coloured everything she did.

"Her death had such an impact. It was not about the family she was born into or the family she married into - she was an extraordinary person despite her status.

"Her status gave her the scope to use the gifts she had.

"She is remembered not as Diana Spencer, not as Princess Diana, but as Diana to everyone all over the world.

"She will be remembered for her kindness and the power of her spirit."

Last updated: 12:14 Friday 30th June 2000.


---

Diana's last godchild, five-year-old Domenica Lawson, is to untie a ribbon to officially open the Princess of Wales Memorial Playground.

Joining her for the ceremony in London's Kensington Gardens was Chancellor Gordon Brown, Arts Minister Alan Howarth and Rosa Monckton, the Princess's close friend and Domenica's mother.

The late princess's brother Earl Spencer is also expected to attend. Although, according to reports in the Mirror newspaper, he will play no formal part in the official unveiling.

Also being declared open was the Diana, Princess of Wales Memorial Walk, which is marked by 89 plaques in the ground charting the seven-mile route through Kensington Gardens, Hyde Park, Green Park and St James's Park.

The £1.7 million playground, close to Diana's former home at Kensington Palace, is based on a Peter Pan theme because JM Barrie, creator of the classic children's story, funded a playground on the site in 1906.

It has six play areas, including a sculpted water feature called the Mermaid's Fountain, the Wigwam Camp with totem poles and tepees, and a Movement and Musical Garden.

The £1.3 million Memorial Walk features fountains and memorials as well as improved landscaping and restored ornamental gates.

Mr Brown, who headed the Diana Memorial Committee, said: "The committee looked at how we could mark the compassion, the concern and the caring that for so many characterised the life and work of Diana, Princess of Wales.

"We decided that there should not only be the Diana, Princess of Wales nursing teams, caring for sick children across the country, and a special memorial award for young people, to encourage community service and excellence, but also a walkway and specially-designed memorial playground."

The playground was for people she cared about most - children, including youngsters with disabilities, said the Chancellor.

Last updated: 03:44 Friday 30th June 2000.


---

No members of the Royal Family will attend the official opening of the Diana, Princess of Wales, Memorial Walk and Playground, it has been confirmed.

Buckingham Palace has insisted, however, that their absence is not a snub to Diana's memory.

The Memorial Walk through Kensington Gardens, Hyde Park, Green Park and St James's Park will instead be opened by Chancellor Gordon Brown and Royal Parks Minister Alan Howarth.

They will join Diana's close friend Rosa Monckton and her daughter Domenica Lawson, the late Princess's godchild, to open the playground in Kensington Gardens.

St James's Palace said the Prince of Wales will be in Dorchester attending a number of "public and private engagements".

"He has long-standing commitments and he is always careful not to let people down."

Prince William and Prince Harry were asked if they wanted to attend the opening but declined, a spokeswoman said.

She added: "That was a very private and personal decision they made for themselves."

The Queen will be in Scotland from tomorrow for Royal Week, the Palace said.

Last updated: 00:34 Thursday 29th June 2000.


---

Funding for a £3 million fountain memorial to Diana, Princess of Wales, is expected to be announced by Chancellor Gordon Brown tomorrow.

Approaching next month's third anniversary of Diana's death, it has been decided to go ahead with the fountain in one of London's Royal parks.

Costs, to be allocated in the Government's Comprehensive Spending Review, are likely to be partly offset by proceeds from the sale of official Diana commemorative coins.

Mr Brown, chairman of the Diana Memorial Committee, is expected to make provision for spending on the fountain, by the Culture Department, when he releases figures to MPs in the Commons.

It is thought the fountain could be constructed within 18 months, somewhere along the seven-mile Diana Memorial Walk.

A fountain, officially announced last September, is preferred to a statue or any other form of memorial and Culture Secretary Chris Smith is expected to launch a national search for the best design.

The landscaped memorial walk and a Peter Pan-theme Diana Memorial Playground in Kensington Gardens, close to the Princess's former London home, were opened last month.

Last updated: 19:28 Monday 17th July 2000.

---

A former RAF technician has invented a revolutionary machine to clear landmines after watching television footage of the late Diana, Princess of Wales in an Angolan minefield.

Bob French, from Melton Mowbray, Leics, came across mines while stationed in Borneo in the 1960s.

The 57-year-old decided to design a clearance machine after watching the Princess during her anti-landmine crusade and finding that the technology to rid the world of landmines had not progressed.

The Redbus Land Mine Disposal System promises to clear land the size of Wembley Stadium in the same time it takes a two-person de-mining team to clear a patch of a few metres.

Mr French, who launches the system, said: "I saw the way they were still poking rods in ground and couldn't believe my eyes.

"There had been no advance in 35 years and I thought there must be a simple and efficient way of clearing."

The new disposal system, which sets-off the explosives before crushing them, uses remote-control technology, making it safer for operators who will be able to stand farther away from the blasts.

Mr French said: "With the standard machines there have been too many casualties after clearing.

"But with these machines nobody is in harm's way. People can build houses on the land and go back to their normal lives," he said.

Last updated: 03:44 Thursday 29th June 2000.


---

Saturday August 12 8:07 PM ET
Princess Diana Wanted to Marry Heart Surgeon

LONDON (Reuters) - Former Pakistan cricket captain Imran Khan will disclose in a television documentary that Princess Diana asked him to help broker her marriage to heart surgeon Dr Hasnat Khan, the Sunday Telegraph reported.

In an hour-long program to be shown on Tuesday, Imran says he held private talks with the Princess in May 1997 during her visit to Pakistan in which she expressed her love for Hasnat and her desire to marry him.

``She had been involved with him for two years and she wanted to marry him,'' the Telegraph quoted Imran saying.

Before the Princess was killed in a car crash in Paris in August 1997, she was reportedly in a relationship with the son of the Harrods owners Mohammed Al Fayed, Dodi, who also died in the accident.

After the accident, Al Fayed said the princess and his son had been planning to marry.

Imran suggested that this relationship was possibly a romance designed to make the London-based surgeon jealous.

``It was clear that she was deeply in love with Dr Hasnat and I just don't think she could have got over it that quickly,'' he said.

The Channel 5 documentary, called ``Diana: Her Last Love'' says that while the princess was seen with Fayed before her death, she was still in touch with Hasnat's family advising them not to read anything significant into the relationship, the Sunday Telegraph reported.

Ashfaq Ahmed, Hasnat's great-uncle, tells the program: ``I can say with certainty that he (Hasnat) was greatly in love with her, and he was very much impressed by her personality. Not by her beauty -- by her humanity.''

In June 1997, British newspapers reported that the princess and Hasnat had become engaged, a story that was denied by her spokesman.

But a book by Diana's psychic healer and confidante Simone Simmons in November 1998 said that the princess and Hasnat had conducted a passionate affair between 1995 and 1996.

It said the relationship ended because Hasnat was not comfortable about taking on a highly public role with the princess and her young sons.

---

Tuesday August 8 11:27 AM ET
Diana's Brother Incensed Over Films

LONDON (Reuters) - The brother of Princess Diana, Earl Spencer, has slammed a video in which a lookalike of the late princess is shown acting out raunchy scenes from movies.

Spencer was quoted Britain's Daily Telegraph newspaper as saying that the video, on show at the Edinburgh Fringe as part of the Scottish city's annual arts extravaganza, was a cheap attempt to grab publicity.

The film shows an actress with an uncanny likeness to Diana crossing and uncrossing her legs in a re-enactment of a scene played by Sharon Stone in the move ``Basic Instinct.''

She is also shown suggestively eating chocolate in a copy of the meal sequence from the film ``Tom Jones.''

Spencer told the Telegraph that the video was a ``tacky stunt.''

But a spokesman for the regulators of the Edinburgh festival defended the piece as ``video artwork.''

---

Princess Diana Tribute
Screen Saver Recalls the Life of the World's Most Beloved Woman

"The original piano music accompanying the screensaver is lovely and haunting. Combined with the images, this screensaver is tough to watch the first time without getting a bit teary-eyed. Download this spectacular screensaver to keep the spirit and beauty of Princess Diana alive on your PC."-- Kerry Krueger, File Mine/CMPnet

---

Wednesday July 26 05:47 PM EDT
Elton John Visits Princess Di's Grave For First Time

(7/26/00, 5 p.m. ET) - Elton John has reportedly made his first trek to the gravesite of his close friend Princess Diana, according to U.K. tabloid The Mirror.

John spent close to three hours visiting Diana's grave on Monday (July 24). Two years ago, John was reportedly not happy with the choice of an island grave on the Althorp estate and had not been to visit. John has now apparently made peace with Diana's brother, Earl Spencer, who gave the singer and his companion David Furnish a private tour of the site.

Of his visit, John told The Mirror, ""I'm so glad I came. It's very peaceful and lovely, restful." John reworked his hit song "Candle In The Wind" into "Goodbye England's Rose" when he sang it at Diana's funeral nearly three years ago.

-- Sue Falco, New York

The only Royal who befriended Diana.


Queen Elizabeth, The Queen Mother, appears at the main

gates to Clarence House before taking the salute on her

100th birthday, August 4, 2000. Thousands of people have

flocked to the streets outside Buckingham Palace to cheer

the Queen Mother, the longest living royal in the history

of the British monarchy. (Pool/Reuters)





---

website designed by ElleWeb ................................

All comments Welcome--email: ElleWeb@writeme.com

Thank you for remembering DIANA.

© 2000 ElleWeb. All Rights Reserved. Created 8/25/2000 Modified 8/31/2000

Visit Gardens, a virual garden center, designed by ElleWeb.




---


Forever a princess in our hearts.
Forever looking down upon her sons.
Forever a mother of the century.
The Royals want to erase the memory of Diana, Princess of Wales.
We will never forget the woman, the mother, the Princess, the free spirit,
~DIANA~