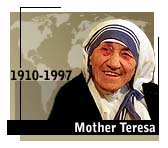 Mother Teresa
Agnes Gonxha Bojaxhiu
Aug. 26, 1910 - Sept. 5, 1997
Calcutta, India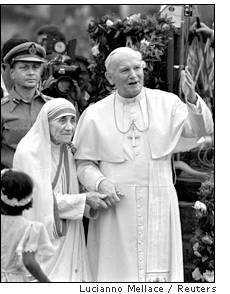 Excerpt from the Nobel Peace Prize acceptance speech
"I choose the poverty of our poor people. But I am grateful to receive (the Nobel) in the name of the hungry, the naked, the homeless, of the crippled, of the blind, of the lepers, of all those people who feel unwanted, unloved, uncared-for throughout society, people that have become a burden to the society and are shunned by everyone."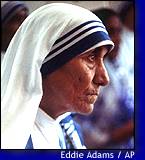 Background
1910 - 1997 Maiden name: Agnes Gonxha Bojaxhiu
Place of Birth: Skopje, Yugoslavia (what is now Macedonia); formerly, Albania
Residence: Calcutta, India
Biographical highlights:
1928 - went to India and taught at a convent school in Calcutta
1937 - took her final vows
1948 - left the convent to work alone in the slums; received some medical training in Paris
1950 - the Missionaries of Charity (Mother Teresea's sisterhood) started 1952
House for the Dying opened 1957 - the Missionaries of Charity started work with lepers and in many disaster areas of the world
1971 - awarded the Pope John XXIII Peace Prize
1979 - awarded Nobel Peace Prize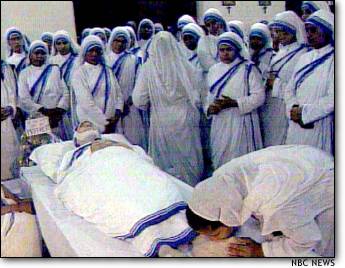 September 5, 1997 at: 3:05 p.m. EDT (1905 GMT) CALCUTTA, India (CNN) -- The legendary nun Mother Teresa has died at age 87. She reportedly died of cardiac arrest in her relgious order's headquarters in eastern India, Friday. The spokeswoman for Missionaries of Charity said the Roman Catholic nun died at 9:30 p.m.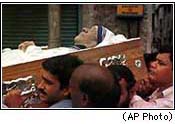 ---
Special Links:
Pope deeply moved by Mother Teresa's death: "The Pope was deeply hurt because he was very close to this sister who dedicated her life to helping people in the world who were the poorest, the most neglected and the abandoned," deputy Vatican spokesman Father Ciro Benedettini said. He added that the Pope would say a mass on Saturday for the repose of Mother Teresa at his private residence in Castelgandolfo, a hillside town close to Rome where he is currently staying."The Pope believes she is a woman who has left her mark on the history of this century," Benedettini said. "She was a glowing example of how the love of God can be transformed into love of one's neighbour."
Archdiocese of Boston Text of Cardinal Law's Statement on the Death of Mother Teresa
Thousands mourn Mother Teresa's death
The Times Herold: Mother Teresa's death noted at Princess Diana's funeral
Mother Teresa's Death To Be Commemorated In NZ
The World Pays Final Respect To Mother Teresa
Tribeca Internet Initiatives (India)mourn the loss of Mother Teresa, and would like to pay tribute to her memory by setting up a condolence book
The Los Angelos Times, Mother Teresa: 1910-1997.
Mother Teresa, 'the Saint of the Gutters' dead at 87
Lovely site is in Honor of Mother Teresa
Mother Teresa's Leprosy Centre
The Diocese of Charleston Mother Teresa Remembered. Diocese mourns loss of Mother Teresa.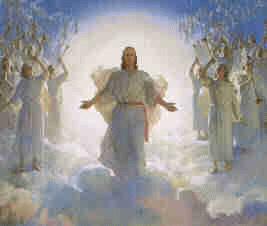 ---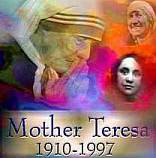 Original graphic by Maria Zorka
at Touchmoon

© ElleWeb Design. March 1998. Last modified: 2/15/2000.
Email: ElleWeb@writeme.com